ZFS and GlusterFS network storage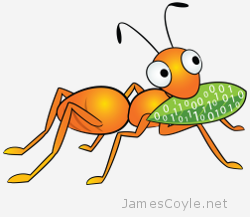 Since ZFS was ported to the Linux kernel I have used it constantly on my storage server. With the ability to use SSD drives for caching and larger mechanical disks for the storage arrays you get great performance, even in I/O intensive environments. ZFS offers superb data integrity as well as compression, raid-like redundancy and de-duplication. As a file system it is brilliant, created in the modern era to meet our current demands of huge redundant data volumes. As you can see, I am an advocate of ZFS and would recommend it's use for any environment where data integrity is a priority.
Please note, although ZFS on Solaris supports encryption, the current version of ZFS on Linux does not. If you are using ZFS on Linux, you will need to use a 3rd party encryption method such as LUKS or EcryptFS.
The problem with ZFS is that it is not distributed. Distributed file systems can span multiple disks and multiple physical servers to produce one (or many) storage volume. This gives your file storage added redundancy and load balancing and is where GlusterFS comes in.
GlusterFS is a distributed file system which can be installed on multiple servers and clients to provide redundant storage. GlusterFS comes in two parts:
Server – the server is used to perform all the replication between disks and machine nodes to provide a consistent set of data across all replicas. The server also handles client connections with it's built in NFS service.
Client – this is the software required by all machines which will access the GlusterFS storage volume. Clients can mount storage from one or more servers and employ caching to help with performance.
The below diagram shows the high level layout of the storage set up. Each node contains three disks which form a RAIDZ-1 virtual ZFS volume which is similar to RAID 5. This provides redundant storage and allows recovery from a single disk failure with minor impact to service and zero downtime. The volume is then split into three sub volumes which can have various properties applied; for example, compression and encryption. GlusterFS is then set up on top of these 3 volumes to provide replication to the second hardware node. GlusterFS handles this synchronisation seamlessly in the background making sure both of the physical machines contain the same data at the same time.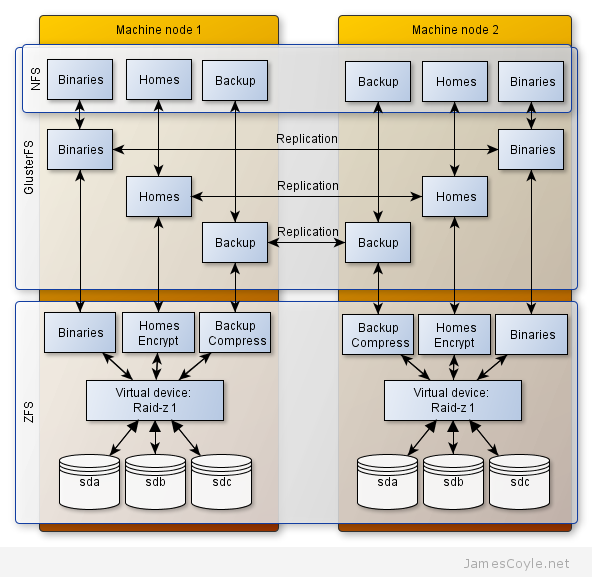 For this storage architecture to work, two individual hardware nodes should have the same amount of local storage available presented as a ZFS pool. On top of this storage layer, GlusterFS will synchronise, or replicate, the two logical ZFS volumes to present one highly available storage volume.
See this post for setting up ZFS on Ubuntu. For the very latest ZFS binaries, you will need to use Solaris as the ZFS on Linux project is slightly behind the main release. Set up ZFS on both physical nodes with the same amount of storage, presented as a single ZFS storage pool. Configure the required ZFS datasets on each node, such as binaries, homes and backup in this example. At this point, you should have two physical servers presenting exactly the same ZFS datasets.
We now need to synchronise the storage across both physical machines. In  Gluster terminology, this is called replication. To see how to set up GlusterFS replication on two nodes, see this article.
These two technologies combined provide a very stable, highly available and integral storage solution. ZFS handles disk level corruption and hardware failure whilst GlusterFS makes sure storage is available in the event a node goes down and load balancing for performance.
Quick poll
Do you use GlusterFS in your workplace?