Proxmox advanced install settings

Installing Proxmox is quick and easy – the installer GUI takes care of everything, such as installing the correct packages and partitioning the root hard disk.
You can download Proxmox from the Proxmox download page as an ISO which you will need to boot your server from.
See my  Install guide blog post for the basics on installing Proxmox.
On more advanced installs, there may be a need to override some of these options. For example, you may want to specify how much swap space is created, or the size of the root partition. On one of my installs using a 120GB disk as the install device, 28GB is used for my root (/) partition on a default install. As I only run the basic, required packages on the host this size is far too large. With larger disks the problem gets worse.
When installing proxmox, the first screen of the installer is the Boot menu. At this prompt, we can specify arguments to override the defaults.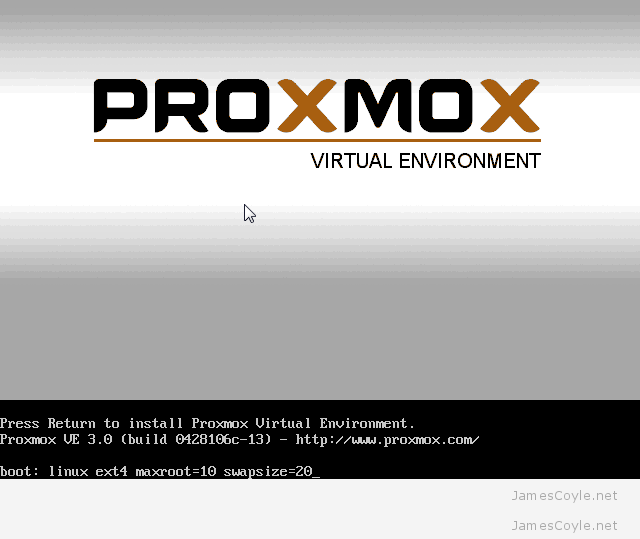 The above example linux ext4 maxroot=10 swapsize=20 sets the partition format to ext4 (ext3 is the default), creates a root partition of 10GB providing the disk is large enough and swapsize of 20GB.
The options available at the boot menu are:
linux ext4 – sets the partition format to ext4. The default is ext3.
hdsize=nGB – this sets the total amount of hard disk to use for the Proxmox installation. This should be smaller than your disk size.
maxroot=nGB – sets the maximum size to use for the root partition. This is the max size so if the disk is too small, the partition may be smaller than this.
swapsize=nGB – sets the swap partition size in gigabytes.
maxvz-nGB – sets the maximum size in gigabytes that the data partition will be. Again, this is similar to maxroot and the final partition size may be smaller.
minfree=nGB – sets the amount of free space to remain on the disk after the Proxmox instillation.